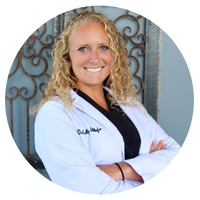 Dr. Kelly grew up in Brownsburg, IN and graduated from Indiana University School of Dentistry (IUSD). During her time at IUSD, Dr. Kelly worked as a teaching assistant for both the human anatomy and the crown and bridge lab courses. She has always enjoyed teaching and hopes to bring the same learning atmosphere to her dental appointments.
Dr. Kelly believes that through patient education, each patient may get more out of their visit and will be able to make the best decision regarding their dental needs. Dr. Kelly was awarded the "American Association of Orthodontists Award" in 2014.
She is certified in Invisalign® and is happy to answer any questions you may have about designing your perfect smile, whether it be closing gaps or fixing crowded teeth.
Dr. Kelly is involved in numerous local dental societies. She is a member of the Indiana Dental Association, American Dental Association, as well as the Indianapolis District Dental Society. During her free time, she enjoys boating, traveling, and spending time with family and friends. Dr. Kelly strives to provide a relaxing and pleasant experience for each patient at every visit. She is excited to be in Greenwood and looks forward to meeting patients like you every day!